---
Rodney Davis blames Nancy Pelosi (a woman in the House) for the diminishing number of GOP women in the House
What's more, Rod ran against a Republican woman for his own seat, lest we forget: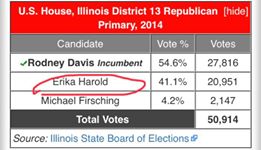 Yikes.
---
Shocking.
(Mary Hansen / Illinois Public Media)
---
An update from last week.
(Adalberto Toledo / News-Gazette)
---
C-U: Hub of Worldwide Innovation
---
Bill Geist is arguably the best C-U export of all time.
(Patrick Singer / Smile Politely)
---
It's probably time to panic about Illini football recruiting
sigh.
---
Champaign product Jordan Caroline had a great game for the Lakers last night
---